Jul 28, 2006
Uncategorized
I never knew that ones legs could hurt so much. Here's the deal. I went swimming Wednesday. Now you wouldn't think swimming would affect the legs that much, but after kicking them furiously all day. . . Yeah, the felt a tad bit sore. Then, Thursday morning, I hopped on my bike at the early hour of 6 o'clock and biked approx. 13 blocks (that would be 1.3 miles) to work. Stood on my feet from 6:15 till 5:00 pm (with two 20 minute sit-downs throughout the day), then hopped back on my bike and peddled approx. 13 blocks (that would be 1.3 miles) back home. So last-night I was feeling just a little bit ache-y and just a little bit tired and we were supposed to stay up really late to have this going away party for Brooke. The party only began at 9:30 with food and fellowship. Then we played this crazy game, called frog which involves trapping buttons with a kettle lid (don't ask). We were planning on staying up till 12:30ish when we had to leave to take Brooke to meet the bus hauling the rest of the WATER students. Duane called the contact guy at 11:30 to make sure things were still on schedule, and he found out that they weren't. They wouldn't be at the meeting place till 4:30am. At that point we all decided that sleep would be a good idea. Sooo we headed to bed. I was seriously doubting that I would actually get up, get dressed, drag myself outside to the van, and go along. So Duane pages at 4:40am (yes, they were delayed once again) and tells us that if we are planning on going, we should be downstairs in 15 minutes. My bed was just feeling pretty good at that hour, so I dragged myself out of bed to say good-bye to Brooke, and then I crawled back in. The world was not blessed with my appearance until 11:00 this am. Which is why I'm still up tonight. Who ever heard of only having a 12 hour day? In aprox 1 hour (12:30), I'm headed to the airport with Jeanette to pick up some of her friends who are flying in tonight. Yeah, late nights are pretty much the norm around here.
Seriously, I have just rambled on and on. Let me see if I can find some pictures of Summer Bible School to end things on a more normal note.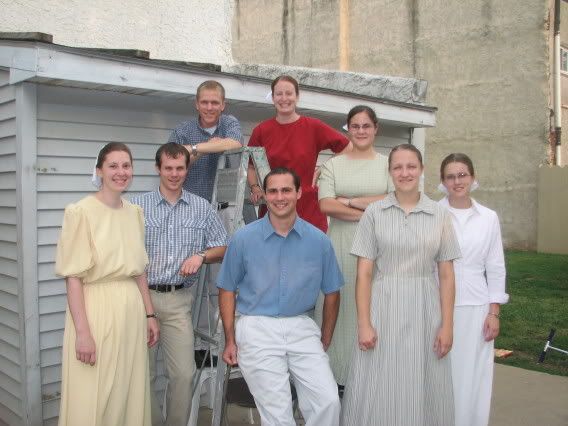 This ladder was standing here for a more important reason, then being a picture prop. It was the means of getting on top of the roof to fix the hole that arrived when a particular someone was attempting a "superman" act. He jumped from the roof of one building down to this roof and he didn't stop when his feet hit the roof.
The teachers, plus a "floater" who moved in for the almost two weeks.
Friends from France who joined us for a couple days.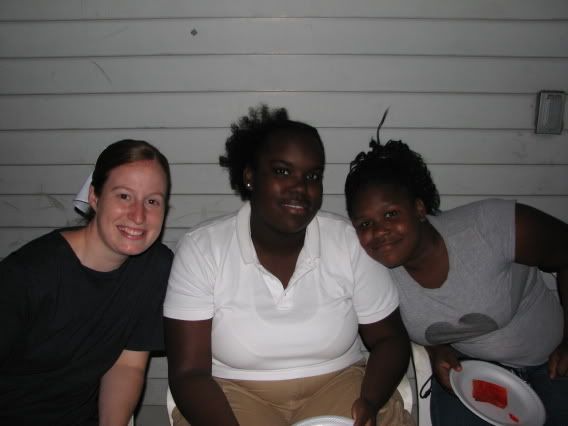 Hanging out with some of the youth girls after tent meetings the one night.
That's all for now. I think I'll do a little Sudoku (I'm addicted) before we head to the airport. Later.